Organic milk thistle in powder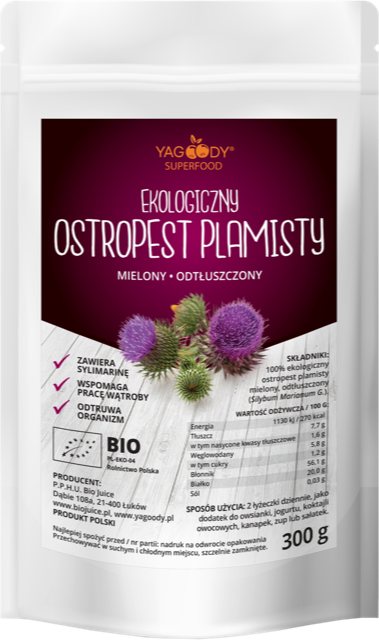 300 g / 1 kg / 7,5 kg
16 / 13 / 2 pcs
80 / 30 / 30 boxes
Organic milk thistle, ground, skimmed, is a diet suplement and source od sylimarin, which protects especially liver. It means that it supports its cells from the free radicals and external factors (especially after drinking alcohol). What is more, it supports as well digestion and helps to maintain normal blood sugar levels.
For whom milk thistle?
for people on a diet,
for those who was drinking an alcohol (for liver regeneration),
for people on detox.
Dosage:
1 teaspoon once a day. It can be an addition to sandwiches, salads, pancakes or as an intension before meal. Attention! Milk thistle is not recommended for pregnant women and for breatfeeding mothers!

Visit our store
and take care of your health!