Aronia is a fruit bush, which comes from North America. It's the most popular variant, which means black aronia (Aronia melanocarpa), are a small spherical berries, which diameter doesn't exceed 10 mm. Ripe fruits are dark blue. Aronia is not very requiring plant, because it can easily resist frost, likes humidity and sun and it protects itself perfectly from different kinds of industrial diseases and pests. It is also perfect garden decoration at any time of the year. Currently, aronia preserves, especially NFC juice, are more and more appreciated by consumers from all over the world, because of its unique healing properties of aronia!
Every product we can pack for You in a retail package under our brand or under Your private label. Contact with us, to get more details.
Aronia is called as 'black treasure', it has special combination of ingredients and values, which are creating a 'vitamin bomb', reach in:
vitamins: C, B1, B2, B6, P, PP, E i A;
minerals: potassium, phosphorus, calcium, magnesium, iron, copper, manganese, molybdenum iodine, cobalt, boron;
polyphenols: anthocyanins, procyanidins, phenolic acids;
tannis;
pectins;
fibre;
proteins;
carbohydrates.

Visit our store
and take care of your health!

Aronia – Mega Antioxidant!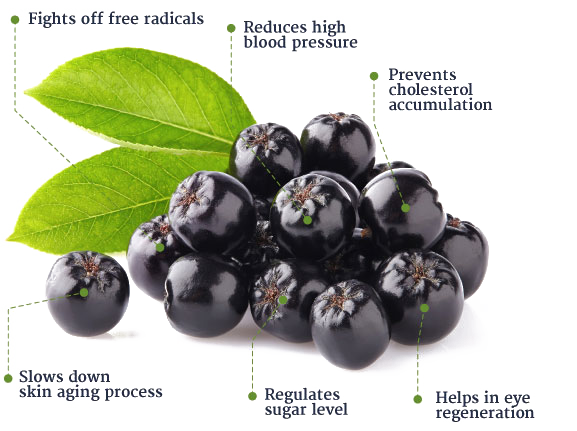 DUE TO HIGH CONTENT OF ANTHOCYANINS ARONIA IS SUPER ANTIOXIDANT*

Anthocyanins contained in aronia:
Fight off free radicals which in excessive number harm DNA and may transform normal cells into cancer cells
Reduce high blood pressure which contributes to cardiovascular disease.
Prevent accumulation of cholesterol in arteries
Slow down skin aging process, strengthen blood vessel and protect the skin from UV radiation
Help to regulate sugar level and have anti-diabetic properties
Slow down the mental aging process, improve memory and learning
Help in eye regeneration as anthocyanins speed up rhodopsin production responsible for visual acuity. Recommended for people working in front of a computer.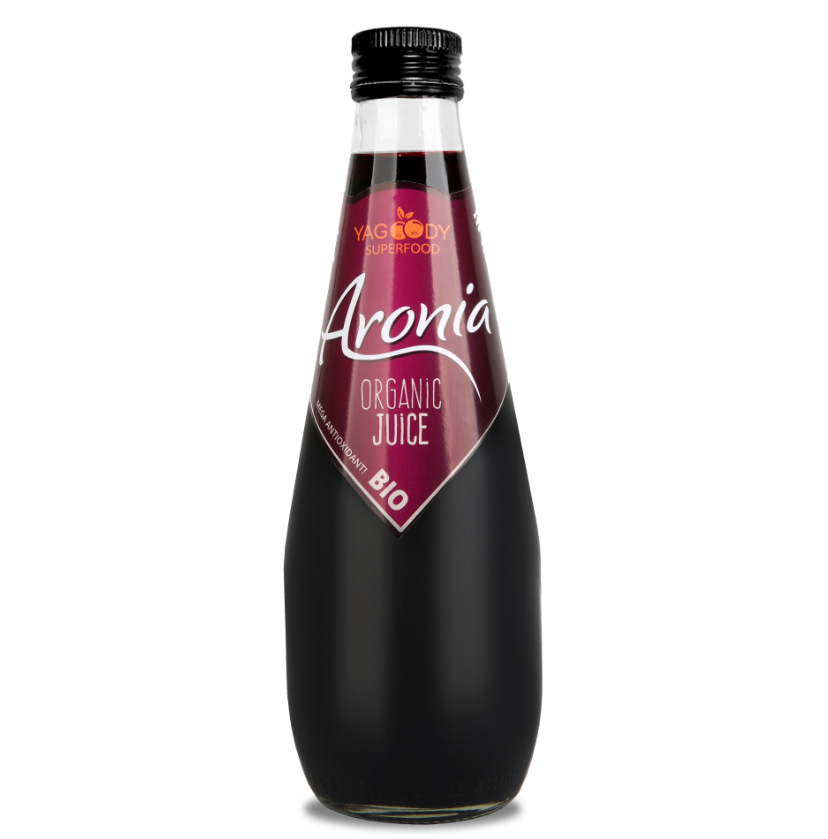 Produced only from carefully selected ripe organic berries, not from concentrate. Pasteurized in low temperatures to maintain maximum flavor and nutrient content. Our Organic Aronia Juice is a great dose of antioxidants and vitamins. Drink 100 ml daily to keep your body and health in a perfect condition.
read more
0,3 / 0,7l
24 / 6 pcs
48 / 80 boxes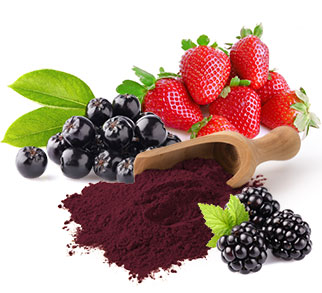 Check out our Organic Freeze Dried Powders and discover their health benefits.
They provide daily dose of antioxidants and vitamins which are essential to keep your body in a healthy condition.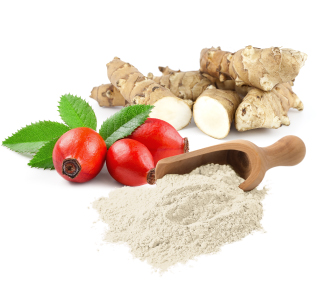 Superfood is a term for 100% natural, unprocessed and low-calories products, which contain a lot off ingredients and values, affecting on human body in rejuvenating and healing way.