The freeze-drying process, conducted in temperatures as low as –40°C, allows for 100% nutrient retention. Our Powder is the pure dose of antioxidants and vitamins. Daily usage helps to keep your health in a good condition. It is perfect addition to oatmeal, yoghurt, smoothie, meat, salads and many others.
Every product we can pack for You in a retail package under our brand or under Your private label. Contact with us, to get more details.

Visit our store
and take care of your health!

What freeze-drying is?
Freeze-drying is a process of drying food through freezing it in a temperature lower than 40 °C,. In a freeze-drying process, processed fruits and vegetables, or instant food, preserves its nutrition values, natural look, taste and smell. All because the fact, that during the process of drying under atmospheric pressure, the ice sublimates, which means that almost all the water is removed from the product, without condensation (water freezes quickly and controlled). The last phase is ending drying out in a temperature about 40-50 °C, thanks to which, finished product gains 1-2% of humidity. It is safe way of processing food, because in a freeze-drying process, no bacteria, molds and other pathogenic germs will not survive.

For whom is freeze-drying food?
For everyone! Freeze-dried fruits, which are avaliable in our offer, have the same nutrition ingredients and vitamins, as they had before drying. Freeze-dried food is becoming more and more popular, not only among people who are hiking, going on cycling or sailing tours. It is recommended for everyone, who cares about healthy and tasty eating, also in a home refuge.
Advantages of freeze-dried food:
Costs of food storage are lower;
Seasonal od products is not a problem;
Long shelf term – even for couple of years;
About 90% of freeze-dried fruits retain its shape, colour, smell and nutrition values;
Food is protected against the development of undesirable bacterias;
Freeze-drying process liquidates in 100% microbiological pollutions.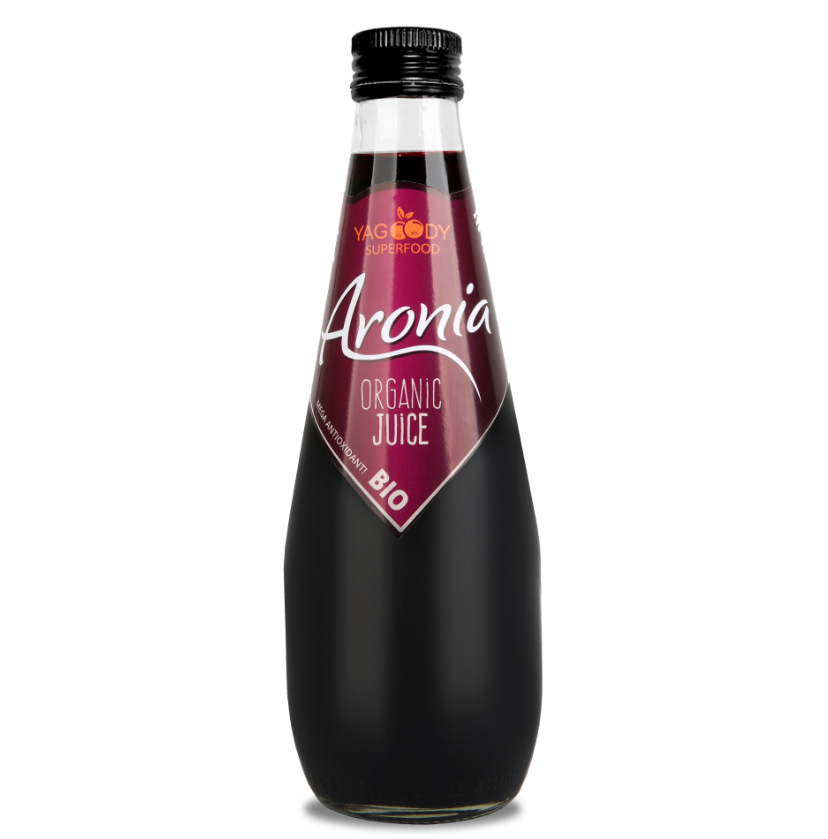 Produced only from carefully selected ripe organic berries, not from concentrate. Pasteurized in low temperatures to maintain maximum flavor and nutrient content. Our Organic Aronia Juice is a great dose of antioxidants and vitamins. Drink 100 ml daily to keep your body and health in a perfect condition.
read more
0,3 / 0,7l
24 / 6 pcs
48 / 80 boxes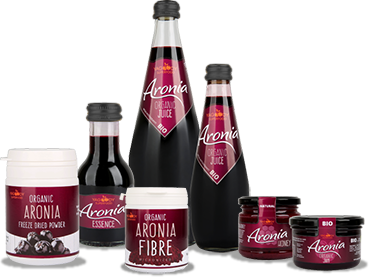 Check out our Organic Aronia Products and get to know
health properties of aronia. Incorporate our organic products
into your daily diet and enjoy great health.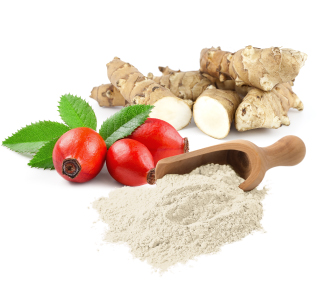 Superfood is a term for 100% natural, unprocessed and low-calories products, which contain a lot off ingredients and values, affecting on human body in rejuvenating and healing way.